Sports Injuries
at Schultz Chiropractic & Acupuncture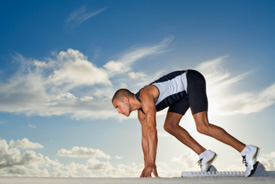 Dr. Alan Schultz
has been working with sports injuries for over two and a half decades.
Two Olympic Medalists
Dr. Schultz worked with two Olympic medal winners during the Drake Relays.
Track and Field
Dr. Schultz adjusted 50 college track and field athletes during the Drake Relays, as well as performing acupuncture for some of the runners. Many college coaches also received chiropractic care during the relays.
By adjusting the sacroiliac joints, runners report faster times.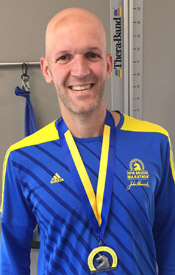 Marathon Performance
Dr. Alan Schultz has been working with marathon runners for nearly 30 years. Cade (pictured left with a medal) runs 30-33 marathons per year, including Boston! Wow!!
Cade has run a marathon in every state and all in a time of under 3:30. Other marathons for him are in the 3:06 range. For such physical and demanding a marathon performances, chiropractic has a proven track record for sports injury and pain treatment.
Military Personnel
Dr. Schultz works with military personal stationed at Camp Dodge. Dr. Schultz works with soldiers that are returning from the battlefield. He also works with soldiers before and after their PT testing each year.
Functional Movement Screen (FMS)
Dr. Schultz is now performing Functional Movement Testing/Screen. This multi-part system is used to evaluate the quality of "MOVEMENT PATTERNS."
FMS is a 7-point movement screen designed to identify dysfunctional movement patterns and asymmetries within the body. It is mainly designed for the physically active individual. However, FMS is used at Schultz Chiropractic Wellness Zone as a starting tool for anyone that walks in the door. From professional athlete to high school athlete, FMS finds hidden problems for athletes. With detection, injuries will be prevented, keeping the athlete in his/her sport and at peak performance.
After discovery of asymmetries in the athlete, patients/athletes are given specific exercises (see our Rehab Center). The key to reducing the risk of serious sports injuries is conducting a FMS.
FMS and Children
Injuries that were once seen mostly in active adults are now occurring more frequently with children. In a time when young athletes are more likely to specialize in one sport and participate year-round, youth sport participants are more prone to injury than ever. Protect your child with regular adjustments at Schultz Chiropractic, where experience matters. For example, as many as 28% of football players in organized sports will sustain an injury between the ages of 5 and 14.
One key in injury treatment and prevention for youth is early recognition. Functional Movement Screen (FMS) is frequently used in our office as a baseline to assess injury risk by identifying key risk factors. Protect your child with regular chiropractic check ups.
Schedule an Appointment
Thank you for visiting our site. I look forward to meeting you in person and hope to help you become an even better you! Call Schultz Chiropractic & Acupuncture and schedule an appointment today!
CONTACT US »

Sports Chiropractor Johnston, Urbandale, Ankeny, West Des Moines IA | (515) 270-2924